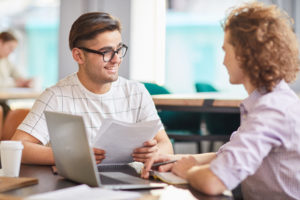 During the 2019-2020 academic school year, members of the ParaImpact research team at Purdue University conducted a study that involved using the Practice-Based Coaching framework (Snyder, Hemmeter, & Fox, 2015) to support an elementary special education teacher in enhancing the implementation of systematic instruction.
"I had a lot of fun working on this, and it was very helpful for myself and my students! I hope to teach it to my paraprofessionals as well."

– Aaron
Aaron, the teacher who participated, is a special education teacher who works with students from grades 2-5. He teaches reading, writing, math, and social skills to students with various disabilities ranging from mild to severe. A research team member served as the coach and met with the teacher, Aaron, about once a week to collaboratively set goals and make plans to effectively implement systematic instruction with the students. The teacher worked on the following areas in a sequence that he preferred: (a) setting up the instructional environment, (b) prompting, (c) error correction, and (d) reinforcement. The research team observed the teacher implementing systematic instruction with his students within natural instructional routines and obtained implementation fidelity data before and after he started engaging in Practice-Based Coaching. Aaron made excellent progress towards his goals with the support of the coach. After participating in the study, Aaron also indicated that he would like to use the same coaching approach to support paraeducators in his classroom to implement systematic instruction.
Snyder, P. A., Hemmeter, M. L., & Fox, L. (2015). Supporting implementation of evidence-based practices through practice-based coaching. Topics in Early Childhood Special Education, 35(3), 133–143. https://doi.org/10.1177/0271121415594925