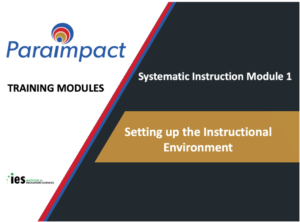 The Purdue team and Kansas University Juniper team developed a series of 6 learning modules on systematic instruction. The purpose of the modules is to teach special education teachers and paraprofessionals how to implement the following components of systematic instruction in their respective classrooms:
Setting up the instruction
Task analysis
Prompting
Error correction
Reinforcement
Data collection
Team members from Purdue and Kansas worked together to develop the the modules. The content and format of the modules were also influenced by the results of our focus groups with school district administrators, special education teaches, and paraeducators. Furthermore, we obtained quality feedback on the subject matter at various development stages from expert reviewers, including Dr. Lynn Ahlgrim-Delzell at University of North Carolina at Charlotte and Dr. Brian Boyd at Juniper.
The ParaImpact team would also like to recognize the hard work of the expert design and technology team at Purdue who have been responsible for the creation of each module using an advanced online interface. The members of the design team are as follows: Mohammad Shams Duha, Tadd Farmer, Yishi Long, Daniela Castellanos Reyes, and Dr. Jenn Richardson.